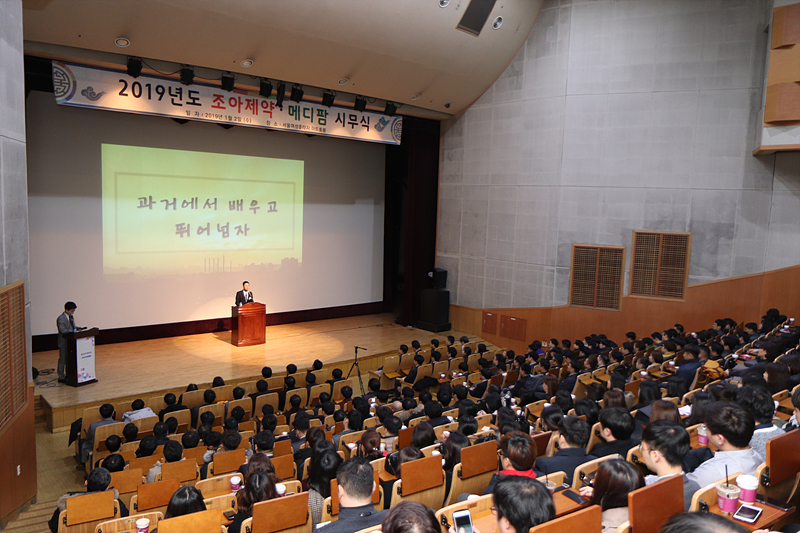 CEO Cho Seong Bae "I will build a proud company for our families"

CHO-A PHARM (CEO Cho Sung-Hwan, Cho Sung-Bae) held the 2019 Kick-off ceremony with all employees, from sales to production team, at the Seoul Women's Plaza in Daebang-dong, Seoul.
The Kick-off ceremony is a formal event including the announcement of the promotions, the recognition of the best employees, the recognition of the long-term employees, an introduction of the business sector, the introduction of new employees, and the announcement of the new business plan.
"Thanks to its excellent and diverse generic drugs, CHO-A PHARM is continuing to grow at an annual rate" said Cho Seong-Bae, CEO of the company. Adding "This growth is thanks to the dedication of our employees and I will do my best to make your family proud of CHO-A".
A total of 37 people were promoted, including, among the regular promotion, the promotion to director of Kim Jong-Seon deputy manager of Gyeongnam office, 9 deputy, 7 managers, 10 assistant managers, 9 senior staff and 1 staff employee. In addition, Gangbuk Sales Office was awarded as the best sales office and Lee Byoung-Hwa, deputy manager from Daegu Sales Office, was rewarded as the best sale manager of 2018.
Moreover, Yu Hyun-jung of the Sales Management Team and Jung Eun-shim from Production Team 1 were selected as excellent employees in 2018. Furthermore, the Gyeongnam sales office of CHO-A subsidiary, Mediparm, was selected and awarded as the best sales office in 2018.
ᇫ Director promotion: Gyeongnam sales office Kim Jong-Seon
ᇫ Deputy manager promotion : Daejeon Sales Office Lee Hwan-Hyuk, Daegu Sales Office Lee Byung-Hwa, Busan Sales Office Kim Hoon-bo, Gyeongnam Sales Office Song Jin-Keun, Gwangju Sales Office Ko Dong-Shik. Accounting Team Oh Kyung-Hee, Accounting Team Lee Kyung-Hee, Development Team Cho, Eun-Hee, Buyer team 2 Han Ju-Hee
ᇫ Manager promotions : Incheon Sales Office Yang -Gi-Moon, Sales Management Team Seo Jeong-Ah, Marketing Team Jang Ji-Hyeon, General Affairs Team Park Hyeon-Pyo, Consignment Team Park No-Hwan, QC Team Cho Min-Hye, QA Lee Jung – Hwan
ᇫ Assistan Manager promotions : Gangbok Sales Office Kim Soo-Jin Kim, Jungbu Sales Office Lee Soo-Ho, Daegu Sales Office Ha Jeong-Ho, Ulsan Sales Office Heo Joon- Won, Gyeongnam Sales Office Im Eun-Yeong, Marketing Team Kang Dong-Wan, Consignment Team Lee Gyeong-Mi, Design Team Ohm Gyeong-Deok, Research Support Team Kim Su-Jin
ᇫ Senior staff Promotion : Chungbu Sales Office Hong Seung-Woo, Gwangju Sales Office Kim Dong-Gwan, Sales Management Team Lee Won-Yang, Sales Management Team Baek Su-Jin, Quality Management Team An Sharon, Quality Assurance Team Chung Joo-Hyun, Quality Assurance Team Kim Hwa-Soon, Production Team 2 Jeong Seung-Jin, Government Team Park Seong-Jin
Staff promotion: Production support Team Kim Dong-Ho